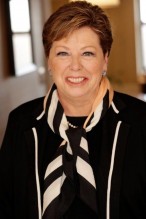 Carol Frohlinger is the President of Negotiating Women, Inc., an advisory firm committed to helping organizations to advance talented women into leadership positions. Coauthor of Her Place at the Table: A Woman's Guide to Negotiating Five Key Challenges to Leadership Success, Carol has over fifteen years of experience in designing, developing and delivering highly customized programs for executive women.
Using social science research about the systemic factors that impact female leaders as the context, Carol's approach emphasizes practical skills that equip women to position themselves to best advantage. Among the topics she focuses on are leadership, communication, personal branding, strategic networking and, of course, negotiation. Her current research is focused on the systemic issues that women in professional services firms must negotiate to succeed, particularly those related to business development. Her recent white paper, "Business Development in the 'New Normal" was published by Thomson Reuters Legal Executive Institute and included recommendations for actions professional services firms can take to improve results for both men and women.
On the organizational change side of the gender parity challenge, Carol consults with senior leaders, designs diagnostic surveys, conducts focus groups with women at all levels and advises firms about how to launch and support women's initiatives that deliver a solid return on investment.
Carol formerly served as Practitioner in Residence at the Women, Leadership and Equality Program at the University of Maryland Francis King Carey School of Law. She has also been an affiliated faculty member of the Simmons School of Management and taught at the Kenan-Flagler Business School at the University of North Carolina at Chapel Hill. Additionally, Carol was on the faculty of the University of California, Hastings College of the Law Leadership Academy for Women. Her advice has been featured by The Today Show, CBS MoneyWatch, NPR, and the New York Times, among other mainstream media. Frequently called upon to provide expert input by publications serving professional services firms, Carol also contributes articles to specialty journals such as Managing Partner and the ALM Law Journal's Marketing the Law Firm.
Selected by then Senator Hillary Clinton to lecture on the issue of pay equity for women, Carol served on a panel with the Senator to address the causes and implications of the gender gap in pay. She co-authored "What You Need to Know About Negotiating Compensation", a publication of the American Bar Association's Presidential Task Force on Gender Equity and also served on the New York State Bar Association's Task Force on the Future of the Legal Profession. Carol currently serves on the Women in the Legal Profession Committee of the New York City Bar Association and formerly co-chaired its Business and Leadership sub-committee.
Carol volunteered with The Thirty Percent Coalition, an organization with a mission to increase the number of women on the boards of America's publicly held companies. She has been honored by The International Alliance for Women with its "World of Difference Award" and was named to the Top 50 Most Influential Women List by the Irish Voice.
Carol holds a J.D. from Fordham University School of Law.
Reach her by email: carol@negotiatingwomen.com or by phone: 631-462-1530.