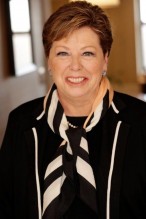 Co-author of Her Place at the Table and Nice Girls Just Don't Get It, Carol Frohlinger is an internationally known speaker on the ways women can negotiate with authenticity to achieve their maximum personal and professional potential. Her depth of expertise and unique perspectives have empowered thousands of women to negotiate more confidently, competitively and competently in all aspects of their lives.
With humor and practical advice she demystifies the negotiation process, providing women with the tools needed to advocate themselves and get results – not only for them, but for their organizations as well.  High energy, a wealth of experience, and the ability to connect with audiences of all ages and stages of their careers result in audience comments such as "engaging", "thought-provoking", and "dynamic".  Even the most reluctant negotiators in her audiences agree that her presentations provide critical skills that enable them to "negotiate with the best of them!".
Microsoft, JPMorgan Chase, the Healthcare Business Women's Association, Pricewaterhouse Coopers, The Principal Financial Group, the New York State Bar Association, and the National Association of Women Lawyers are just a few of the organizations and professional associations to whom Carol has spoken, often calling upon her time and again to share her wisdom with employees, clients and members.
Carol has appeared on the Today Show among other television programs. Her advice has been featured by CBS MoneyWatch, NPR, Martha Stewart Living Radio, Newsday, Cosmopolitan Magazine, Women's Health and The New York Times among other mainstream media. Frequently called upon to provide expert input by publications serving the legal and accounting professions, Carol also contributes articles to professional and association journals such as WomenLegal Magazine, Managing Partner and ALM Law Journal's Marketing the Law Firm and has blogged for Forbes.com and The Huffington Post.
As President of Negotiating Women, Inc., Carol consults with organizations and associations who wish to attract, retain and promote talented women. Carol and her team design and administer diagnostic surveys informing companies about gender related issues, conduct focus groups with women at all levels, advise organizations about how to launch and support women's initiatives as well as developing and delivering research-based, interactive workshops.
Carol is an affiliated faculty member of the Simmons University School of Management. Formerly, she served on the faculty of the UC Hastings College of the Law Leadership Academy for Women and as the Practitioner in Residence at the Women, Leadership and Equality Program at the University of Maryland Francis King Carey School of Law.  Her previous experience includes training both men and women in the financial services industry to negotiate sophisticated solutions to meet customer needs and to deepen relationships.
Selected by then Senator Hillary Clinton to lecture on the issue of pay equity for women, Carol served on a panel with the Senator to address the causes and implications of the gender gap in pay. Carol  She has been honored by The International Alliance for Women with its "World of Difference Award" and was named to Top 50 Most Influential Women List by the Irish Voice.
Living by the maxim, "To those whom much is given, much is expected", Carol co-authored "What You Need to Know About Negotiating Compensation", a publication of the American Bar Association's Presidential Task Force on Gender Equity. She currently serves on the Women in the Legal Profession Committee of the New York City Bar Association. She was appointed to and served on the New York State Bar Association's Task Force on the Future of the Legal Profession and chaired its Best Practices Sub-Committee on Women in the Law. Carol has volunteered with The InterOrganizational Network (ION), an organization that focuses on increasing the number of women on the boards of America's publicly held companies and is now a member of The Thirty Percent Coalition with the same mission.
Carol is a former sales executive, commercial banker and practicing attorney.  She holds a J.D. from Fordham University School of Law.
She and her husband divide their time between New York City and Athens, Georgia. They are the proud parents of a daughter and son. Carol negotiates with each of them often!
E-mail Carol Frohlinger.
---
Watch Carol's Speaking Videos
---
Books written by Carol Frohlinger