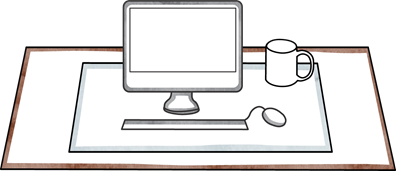 Working from home (WFH) requires change for those used to working in an office. Among those changes is the fact that negotiations that weren't necessary before have become de rigeur. Tips for negotiating WFH boundaries successfully can help – these negotiations are with people who matter to you personally.
Carol Frohlinger shared some advice recently in an article titled, "Communicating Your Boundaries for Better Productivity"
Tips for Negotiating Working from Home Boundaries Successfully:
Plan your ideal work from home situation. Write it all down so that you will be able to negotiate your work from home boundaries successfully. Even if you don't think it'll be possible to achieve your ideal situation, having thought it through in detail will be useful when you begin the negotiation.
Have the conversation. Take the time to sit down with those who share your space to discuss how you can work most productively – if you fail to fail to do so, expect that you will get in each other's way. Take control by working things out before they cause problems. For example, decide

who will work in which area
how you will manage noise
how you will indicate to each other when you can be interrupted and when you can't

Listen carefully to be sure you understand the other person's needs. Too often, we ask questions but we don't really listen to the answers. Instead, we use the time to plan the next thing we're going to say. As a result, we deprive ourselves of information we could use to craft a creative solution. In addition, the other party often notices and isn't pleased.
Check in to make sure things are working periodically. Negotiating working from home boundaries successfully is rarely "one and done." As things change, people will need to renegotiate the agreements they have made to accommodate the changes.
Negotiating WFH boundaries successfully is more than about the boundaries agreed to. The ways these negotiations are handled are indicative of the ways people feel about each other and the respect each has for the other's work.